A few minutes ago, i watched a video that gave me goose bumps and brought me to tears.
Sometimes in the past i used to tell myself when i couldnt drive that driving to impress. It was nice and seeing people driving at top speed was COOL. BUT then, i always remembered that after being a VICTIM at a tender age of a serious car accident and couldnt walk for a while, it wasnt a COOL thing especially after the driver who caused the accident abandoned us and ran away.
Now, that i know how to drive i have leanrt alot, that the slightest mistake or loss of concentration can make EVERYTHING go wrong.
Loss of concentration,
Driving at top speed (even when trying to impress a babe think about it: is the last smile you ever want to see in life, if you want to DIE in a car, or if you want to end up imprisoned after killing someone.) I ask all these so the Next time you want to accelerate you remember that it might just be you fastening the clock for TIME UP.
LATE FOR AN APPOINTMENT? (I guess we are all guilty of this one) "Oh Driver speed up, i'm in a HURRY" or the bike man "why are you being slow i'm late jare"why did u just not wake up early, that would have done the magic.
On my way to school one day i most students were in a hurry because we had been informed that strike had been called off and everyone wanted to get back and settled and thus the hurry.
I sat in front of the bus and the driver was driving at a considerable speed while trying to be careful because he wanted to quickly get back and pick up more students.
The other students were telling him to move faster that other buses were passing him by.
Next thing we knew, a bus almost hit us in his hurry to the FINISH LINE.
The driver having listened and let the pressure affect him increased his speed. I told him in a calm voice "If you want to kill yourself and others let me come down, because i'm not in a Hurry" thinking about what i just said he gradually he reduced his speed. (think about it every time you risk your life by asking the driver to be like his mates and SPEED UP it may be his time and you serve the punishment with him, GOING BEFORE YOUR TIME)
Lo and behold a few minutes later, we saw some commotion. An accident had happened and buses were packing to see what had happened.
The bus that sped past us a few minutes earlier had been involved. The driver hit a stationary trailer and he was DEAD. Almost all of them were INJURED and many feared dead.
NOW ALL I ASK IS WOULD YOU LIKE TO BE THEM? OF LIVE YOUR LIFE TO THE FULLEST EVEN IF YOU ARE FEW HOURS LATE?!!
*ENSURE YOUR LOVED ONES ARE PROPERLY STRAPPED INTO THEIR SEATS*.
*DO NOT ALLOW CHILDREN BELOW THE AGE OF 10/12 INTO THE FRONT SEATS, THEY BELONG IN THE BACK SEAT*.
*DO NOT ALLOW CHILDREN OR EVEN ADULTS TO PLAY ABOUT IN A MOVING VEHICLE, THEY MAY JUST FLY OUT OF THE WINDSRCEEN IF YOU HIT THE BRAKES SUDDENLY**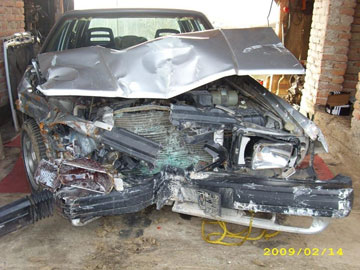 Though many accidents happen and some may NOT BE OUR FAULT, I think
1. Do not distract the driver of the vehicle or Motorcycle.
2. When listening to music, let it not be too loud that you are not aware of your surroundings.
3. Always ensure that all your mirrors are intact because we cannot be too careful.(as my father would say there is still a blind spot even with all the mirrors).
4. if you have something to look at in the back seat, SLOW DOWN or PARK before turning around.
5. Even if you are happy dont take your eyes off the road to celebrate with your partner in the car. Park first.
6. If you want have to or absolutely have to receive calls then use a blue tooth ear piece or connect to your sound system in your car.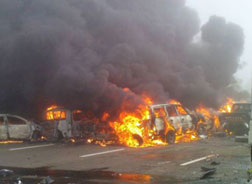 ................. I guess we can use our imagination for the rest..